General Dentistry
Your Trusted General Dentist in Canley Heights
General Dentistry Canley Heights
General dentistry involves a wide array of treatments associated with the diagnosis, prevention and care of your overall dental health.
These treatments include dental scaling, prophylaxis, fluoride treatment, fillings, mouthguards, fissure sealants, root canal treatments, bridges, dentures, inlays/onlays and preventive dental health education.
General Dentists: What Do They Do?
Unlike other dental specialists, who are mostly focused on a particular aspect of dentistry, general dentists provide a wide range of services that are important to maintaining your health, including:
Preventive Services
These services help you maintain optimum oral health by stopping diseases before they take over your mouth. Regular dental check-ups and professional teeth cleanings are foundations of prevention.
Your Canley Heights dentist may give you instructions on improving your oral hygiene at home and may also recommend treatments, such as dental sealants if needed.
Restorative Services
When a problem is spotted, your Canley Heights dentist will ensure you get a quick and appropriate remedy. Probably the most common and effective restoration involves removing tooth decay and placing a filling.
General dentists also offer a place to go when you need emergency treatment for a broken, loosened, or knocked-out tooth. They can determine and treat the causes of dental pain or gum disease.
Cosmetic Procedures
Most general dentists can help you achieve that beautiful smile you've always longed for, using cosmetic procedures, including teeth whitening, cosmetic bonding, and porcelain veneers.
These cosmetic procedures are performed to enhance the look of your teeth, gums, and bite. They mainly focus on improvement in dental aesthetics in colour, position, shape, size, alignment, and overall smile appearance.
Overall health concerns
Your oral health can reflect your general health. Many dental problems can indicate issues in other parts of your body and vice versa. For instance, untreated oral infections can cause poor control of diabetes, an increased chance of cardiovascular disease, and issues during pregnancy.
General dentists are educated to recognise these and other issues and offer appropriate treatment or referral when needed.
They can also offer lifestyle and diet counselling, advice on smoking cessation and general wellness information.
We recommend visiting the dentist for routine check-ups twice a year. For patients with ongoing treatments or existing dental problems, your Canley Heights dentist decides on how often you come for a visit.
At-home Care
Aside from regular visits to your dentist, include the following to your dental care routine:
Brush your teeth at least two times a day, once before going to bed and once at another time of the day.
Floss once a day.
Maintain a teeth-friendly diet by limiting your sugary and acidic food intake.
Smoking and using other tobacco products can also affect your dental health, so if you smoke, stop.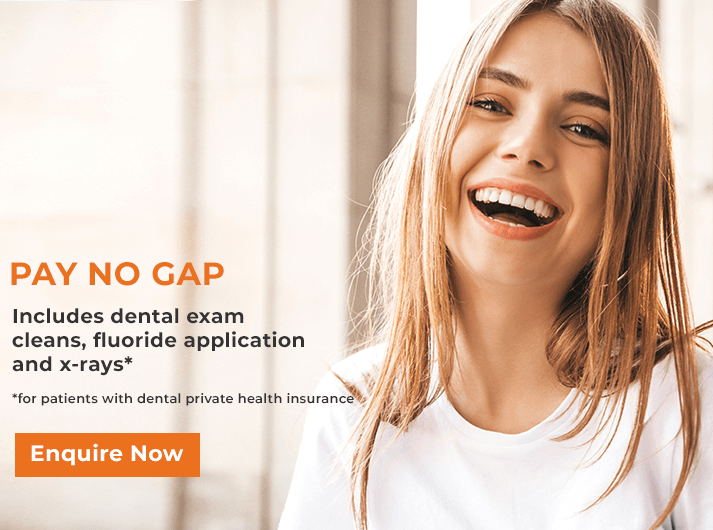 General Dentistry in Canley Heights
We know that going to the dentist is not everyone's favourite activity, but we will make it as enjoyable for you as possible.
At Canley Heights Dental Care, we are here to answer any of your questions and ensure that you have a healthy and beautiful smile.
Visit your Canley Heights dentist today!
If you want to know more about family dentistry in Canley Heights, please call us on (02) 9199 9678 or book your appointment online.
We are located at 1/229 Canley Vale Road in Canley Heights.
Frequently Asked Questions
How often do I need to visit my dentist?
We recommend seeing your dentist for check-ups twice a year. For patients with ongoing treatments or existing oral problems, your dentist decides on how often you come for a visit.
How do I take care of my teeth at home?
Brush your teeth at least twice a day. Floss once daily, too. Have a teeth-friendly diet by cutting back on your sugary and acidic food and beverage intake. Smoking and the use of other tobacco products can also affect your dental health, so if you do smoke, try stopping.